Project Description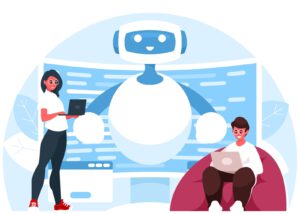 The project develops a new solution for the development of AI competences for young people. Interactive "AI experience spaces" will be created that enable young people to experience AI methods transparently in concrete application examples and to explore their mechanisms, as well as to recognise the potential of responsible and the risks of unreflectied AI use. This enables experiential learning about AI specifically for young people and stimulates it with gamification and design thinking. The solutions are developed with young people and realised and tested online and in real places. For this purpose, partners from applied research on human-centered AI and participatory innovation design cooperate with media competence centres, maker spaces and STEM networks. A resource for AI capacity building will be realised, which will contribute to the creation of the foundations for the public good-oriented use of AI.
Funding: Funding Guideline for Artificial Intelligence for the Common Good by the Federal Ministry for Family Affairs, Senior Citizens, Women and Youth
Duration: 2023-2025
Project Partners
University of Applied Sciences Stralsund
Medienkompetenzzentrum Reinickendorf – meredo e.V.
Project Details
Date Friday, February 24th, 2023
Tags Social Innovation, Open Innovation, Participatory Systems