Open position: Researcher in Interactive Visualisation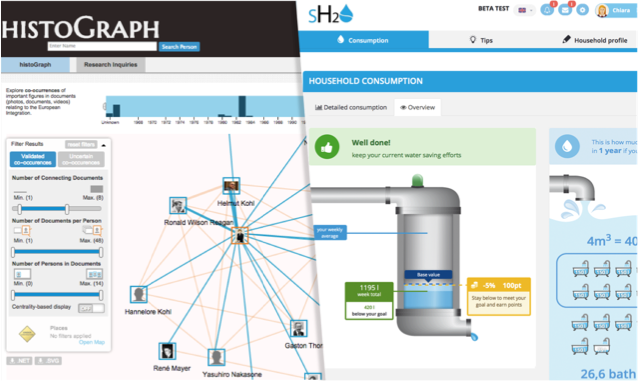 Researcher/Specialist in Interactive Visualisation (80% / full-time opt.)
The European Institute for Participatory Media in Berlin is a network institute for research and development of novel kinds of participatory systems and applications for business and society. An important stream of our work investigates innovative application of digital technologies to solving societal challenges (e.g. sustainability, environment, social innovation). This includes the experimental design, development and application of techniques from the fields of information and knowledge visualisation, cooperative systems, social media, gamification and mobile technologies into innovative prototypes evaluated in experimental and real-world settings.
Are you creative and technically competent, with a keen interest in experimental design and development of applications for visualising data, information and knowledge in intuitive and appealing ways? You love working on innovative topics and are eager to explore how visualisation technologies can help solving societal problems? Then you should apply!
Your work will include:
• Design and prototyping of visual information interfaces for behavioural change, analytics and decision-making,
• Prototyping of mobile apps for visualisation and/or cooperative visual analysis interfaces for large screens,
• Evaluating the suitability of different visualisation techniques for specific application scenarios and use cases.
You bring:
• a university degree in HCI, media informatics, information visualisation or related area (preferably Master level),
• practical experience with design & prototyping of visualisation applications / visual information interfaces,
• self-motivation, conceptualization and creative problem solving skills,
• experience with information visualisation libraries (D3.js) is an asset.
You are highly motivated, self-organized and used to working goal-driven with clear deadlines.You are a team player, curious to learn new things and capable of finding creative solutions to tasks you haven't faced before.
Knowledge of user-centred design methods is an asset, as is some command of German. Previous experience in working in innovation or research settings is appreciated.
We offer a competitive salary (based on TVÖD E13, adjustable for skills and experience) and a dynamic, interdisciplinary and international working environment in a small team in Berlin with a large network of partners across Europe. Our projects include travel to partners in different European countries. There is also a possibility to pursue a doctoral degree in cooperation with one of our university partners.
Our work involves well-known partners from universities and applied research, public institutions and companies from different European countries. Some of our projects include visual applications, portals and apps for stimulating behavioural change in water saving by means of visualisation and gamification (SmartH2O), supporting multi-stakeholder cooperation for sustainable water management in Europe (POWER) and in Africa (DAFNE), and smart energy tools and visualisations for citizens in several EU countries (enCOMPASS). We also enable the development of Digital Social Innovations through competitions, crowdfunding and design thinking on behalf of the European Commission (CHEST). For an overview see our projects and research overview.
Please send your application as a single PDF file with a detailed CV (incl. skills and practical experience) and a letter of motivation to eipcm@eipcm.org.
(download PDF version of this announcement)
Please understand that we cannot respond to unsuccessful applicants and can't reimburse any costs for an application interview.
Open position: Student assistant / data analyst (m/w)
Context of your tasks: The SmartH2O project
How can you encourage users to save water? In SmartH2O, we are trying to accomplish this through a web portal and mobile apps that raise the users' awareness on their own consumption, and that provide practical tips they can use to save water around the house and garden. Smart water meters provide us with fine-grained water consumption data that is used to give feedback to the users.
In such systems the motivation of users is crucial to keep users engaged with a topic they usually rarely think about. To engage the users, gamification principles are used, including points, leaderboards, badges, and real-life rewards such as museum tickets or – when you end up first on the leaderboard– an iPad.
The SmartH2O project is an EU-funded consortium project, with partners from Germany, Italy, Spain, the UK, Romania and Switzerland. For more information, please see http://eipcm.org/project/sh2o/
Your tasks
Now at the end of the project we want to find out whether the use of the web portal or the apps has been effective, in terms of impact on water consumption, user activity in the apps, or awareness levels. Your task consists of preparing and running analyses to identify patterns in user activity data in relation to consumption and awareness measures. Research questions we are pursuing include: does an increased usage of the portal and app lead to less water consumption? Can clusters of users with similar activity patterns or similar baseline water consumption patterns be identified? How does the activity of users evolve over time?
What you bring with you
Good knowledge of and experience with data analysis and information retrieval methods
Experience with cluster analysis is preferred
Experience with querying relational databases (e.g. MySQL)
Flexibility in working hours and a hands-on mentality
Affinity with the research topic addressed in SmartH2O is a bonus
Practicalities
Depending on your availability, you will be working between 8 and 12 hours a week.
You can either work from home remotely, or – if you like to spend time in Berlin – work from our office right opposite from the Brandenburg Gate!
Salary is in line with salary for student assistants; additional bonus possible for candidates with excellent skills and proven experience.
Applications
Please send your CV and a brief cover letter to m.melenhorst@eipcm.org
Open position: Social Media & UCD Specialist
The European Institute for Participatory Media in Berlin invites applications for the position of
Social Media & UCD Specialist  (part-time 60% – 80% / full-time opt.)
Are you a communicative person with a university degree (Communication Sciences, UCD/UX or related) and experience in Social Media communications? You would like to work in a dynamic, international team? Then you should apply!
We are continuously looking for Scientific Project Managers, Researchers and Software Developers with skills and experience in the different areas (availability subject to current projects status):
Social Computing, Crowdsourcing and Human Computation
Information and Knowledge Visualization,
Interaction Design and Interface Design,
Web2.0, Collaboration and Social Media,
Interactive Systems and Mobile Computing,
User-centred Design and Usability Engineering.
You will have a chance to work on top-notch research projects within an international network of partners in Germany and Europe. There is a possibility of working towards a PhD degree in cooperation with our partner universities or performing Post-Doc research for further scientific qualification. Candidates with apropriate experience can be given the chance of acquiring own projects towards building-up an own research team. Send your application with a detailed CV, letter of motivation and research interests to jobs@eipcm.org
Freelance positions
If you are interested in being considered as a freelance collaborator you can register your profile with our freelance database by sending a short Email to freelance_db@eipcm.org. Please include the word "register" in the subject and attach a complete CV (PDF). The database is confidential and available only to us and our partner institutions.
Internships ("Praktika")
Communication, PR and Events More information…
Web and Interaction Design  More information…
Prototyping and Web Applications  More information…
Proposal Writing for EU/BMBF Research Funds  More information…